A Common Sense Home protects you from the bad weather and other threats. We'll share safe room ideas to help you out of harm's way, whether you're building new or updating your current home.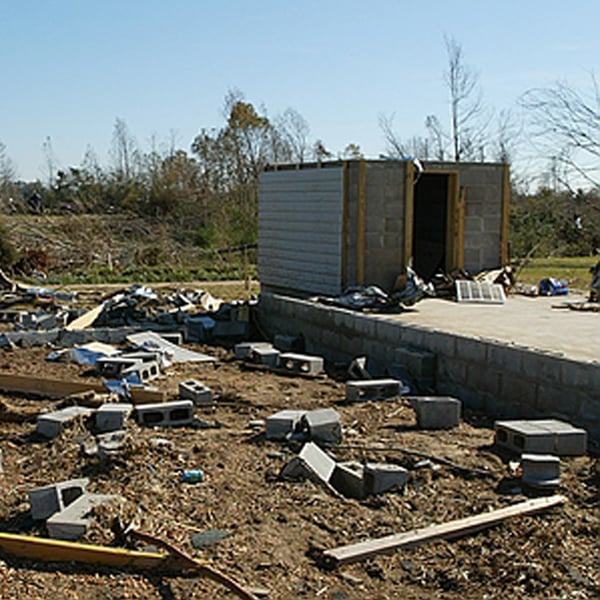 Choose the Right Safe Room for Your Main Risk
Before you build or buy a safe room for your home, think about the most likely threats in your area.
Tornado prone areas need a wind resistant storm shelter. Hurricane prone areas need protection from high winds, and possibly flooding. In some locations, a panic room for home invasions or terrorist attacks may be the best option.
Choose a safe room location that is easy to access. You want to be able to take shelter quickly when needed. Avoid rooms with windows if possible, as these are more difficult to secure. Rooms in the basement or below ground are common for tornado shelters, because they can't blow away.
Make sure that everyone in the family understands when to use the safe room and how to secure it. If anyone in the family has mobility issues, figure out a plan to get them to safety before emergencies hit.
Make sure to reinforce the walls and ceiling, and anchor all pieces together. A safe room that collapses under load (winds, wet soil, building collapse, etc.) is nothing more than a death trap.
Do some research before you build – don't be that guy who just starts digging a hole in the backyard, only to run into a high water table or unstable earth. Don't think you can just bury an old shipping container in the yard and call it good. Soil is heavy, and wet soil is even heavier.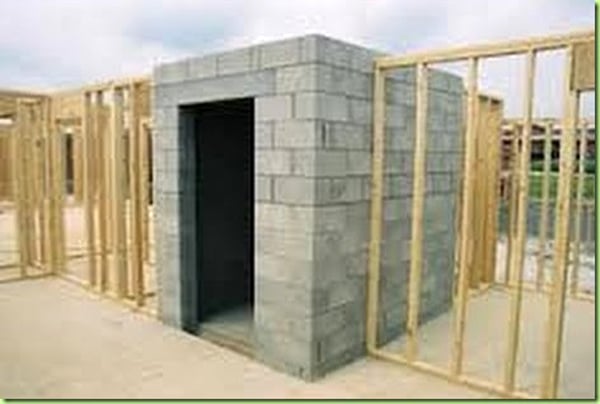 Whether your safe room is at or below ground level, make sure it is securely tied in to a foundation. You don't want to have a projectile proof walls and door only to have the entire structure tear loose.
Safe Room Construction
Retrofitting a safe room in an existing home will be 20% or more than the cost of building new. You may be able to repurpose an existing room by fortifying it.
Stand alone structures are another option. There are safe rooms designed for above ground or below ground installation. Some larger units include bunks and addition storage space for long term shelter.
If you are building a safe room, choose steel or concrete walls rated to stand up to high winds or projectiles. Secure walls to the foundation and roof, and use a steel door and reinforced door frame.
Most of us have seen tornado and hurricane debris driven through tree trunks and appliances – a standard lightweight door is not going to cut it. Make sure the safe room door opens in to the shelter, not out, in case debris blocks the exit.
If your safe room is a panic room, make sure you have a heavy duty dead bolt or crossbar door lock. You might also want an external security camera in a discrete location.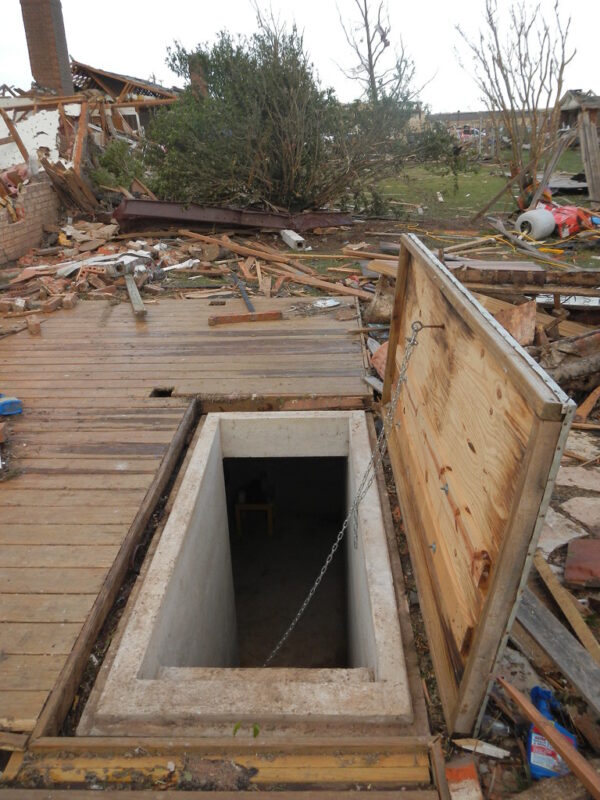 Remember, your shelter can function as gun room, root cellar or even a wine cellar. Our root cellar does double duty as a safe room.
For homes with basements and a porch with concrete footings, the area under the porch may make a inexpensive safe room. This area is usually filled with soil and ignored. If you add a sturdy door, it already has four walls (the footings). (This is where our root cellar is located.)
Safe Rooms Need a Fresh Air Supply
Make sure your safe room has a source of fresh air, especially if it is underground. My entire home is made from insulated concrete forms (ICFs), a popular choice for safe rooms. I can guarantee that it gets a little stuffy inside when the doors and windows are closed.
Now imagine – small room, several people, possibly pets, emergency supplies, panicked breathing – and no fresh air. This is not what you want when emergencies hit.
For underground shelters, have at least TWO vents, with one high and one low to keep air moving. Two 4″ to 8″ PVC pipes. This is similar to the air flow required to vent ethylene gas in a root cellar.
What Supplies Do You Want to Store With You?
Think about who and what is going to be in your safe room. Will you have enough room for your entire family? Will others be allowed inside? What about pets?
Which critical supplies stay in the room, which are placed nearby in hopes that you will be able to reach them if needed?
At a minimum, you should have:
You may also want:
Valuables/important documents
Guns and ammunition
Something to help pass the time as you wait, like a deck of cards
Personal hygiene items
Gum or candy
Crowbar or Halligan tool
Pet litter box or pee pads
Think about being stuck in a small space for days. See "What to Do When the Power Goes Out (12 Things to Prepare)" for more ideas.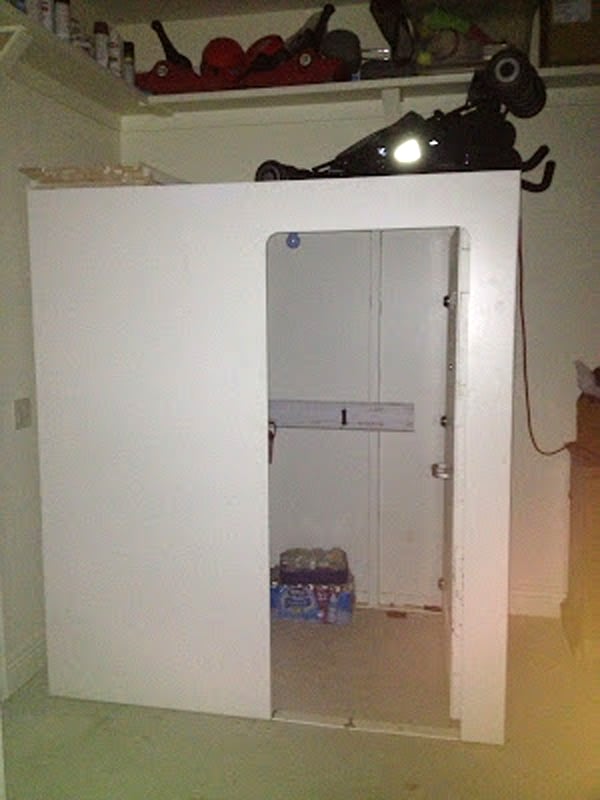 Safe Room Funding and Rebates
The United States has more tornadoes than any other country in the world, so it makes sense to be prepared.
The Federal Emergency Management Agency (FEMA), does not fund safe rooms directly. They do provide Hazard Mitigation Assistance (HMA) funding to eligible states, tribes, and territories that, in turn, provide the funding to local governments.
An HMA grant can fund up to 75% of eligible safe room costs. To see if funding is available in your area, contact your State Hazard Mitigation Officer. To qualify, you must meet FEMA guidelines, so check those rules before you start building.
Some high risk states such as Texas and Oklahoma also have rebate programs for building.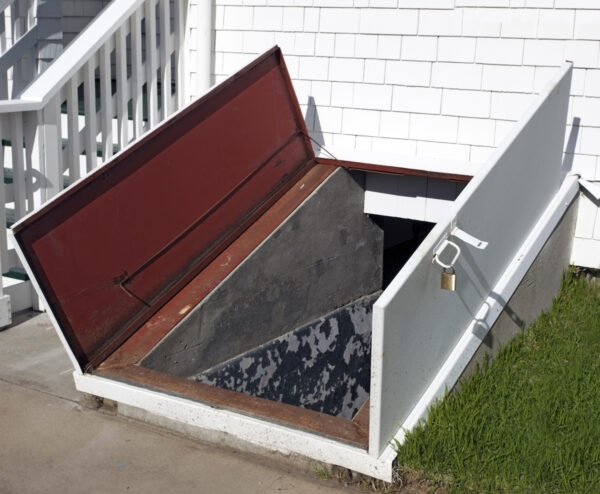 Preparedness Brings Peace of Mind
Safe rooms are only as good as the planning and products that go into them. Cut corners, and they may fail you when you need them most. Many companies will work with you to help get funding and meet your safety needs.
My husband is ex-military, and he likes to site the "7 Ps" – "Proper Prior Planning Prevents Piss Poor Performance". Know your risks, plan appropriately, and stay safe when it counts. Having a safe room will give you peace of mind.
Related Articles
We have dozens of preparedness articles on the site, including:
Emergency Preparedness for Storms, Tornadoes and Hurricanes
Emergency Power Options for Your Home
What to Get Ready for a Hurricane – Printable Hurricane Prep Checklist